Due to the current Covid-19 crisis limited facilities are are available until further notice.
Update
Some good news...
You will be pleased to hear that following new guidelines we are now able to re-open the MUGA and the BIKE TRACK (please see also British Cycling's guidelines ) on the recreation ground for the use of Radwinter residents and their families. In accordance with the guidelines the children's play equipment and the Pavilion remain closed. The CCTV is being monitored remotely at all times.
Please leave the tennis net up at all times and take your own precautions when touching surfaces as there is no cleaning programme in place.
Please be respectful of other users, wait for people to finish and give them plenty of space.
Anyone using the facilities should follow government guidelines at all times.
"1. Public spaces / outdoor activities / exercise
There are a limited number of things you can now do that you could not do before:
spend time outdoors – for example sitting and enjoying the fresh air, picnicking, or sunbathing
meet one other person from a different household outdoors - following social distancing guidelines
exercise outdoors as often as you wish - following social distancing guidelines
use outdoor sports courts or facilities, such as a tennis or basketball court, or golf course – with members of your household, or one other person while staying 2 metres apart"
.....and some bad
Closed Car park
Sadly following criminal damage to the entrance barrier last week the car park is now closed until a new secure barrier in place. Quotes are currently being sought to get the gates back up so that the car park can once again be open for use.
Recreation Ground
The recreation ground itself is still open to local people to visit on foot to use the rec for their daily exercise. However, if you see any of our volunteers or contractors who maintain the areas, please keep a safe distance.
If anyone has any queries, please contact me at: radwinter.recreation@gmail.com
Hopefully, we will be able to get back to some semblance of normality before too long.
Keep safe and well
Julie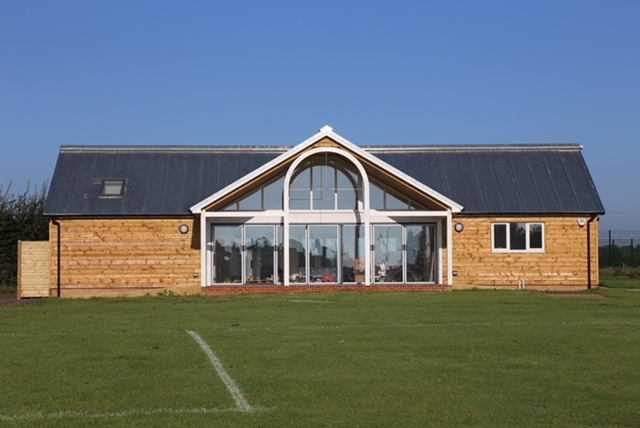 This purpose-built community and sports pavilion on Radwinter Recreation Ground is multi-purpose and fully accessible and provides exceptional event facilities including a spacious social area, changing rooms, kitchen, store and veranda together with free parking.
The Pavilion has been built for the villagers of Radwinter to encourage community activity for all ages. The impressive facilities include an all-weather, multi-use games area (MUGA) with two tennis courts, a netball court, a basketball court and a 5-a-side football pitch.
The pavilion, MUGA, football pitch and the recreation ground are available to book day or evening, 7 days a week.
News:
A fantastic kinetic bike track has now been completed and is open for use. Located behind the Pavilion.
Sadly, the children's play area was condemned by ROSPA last Autumn and had to be dismantled.
A Boules court has been created on the site of the old playground as there were concrete blocks, to which the old structure was anchored, which were too costly to move.
When we have sufficient funds we will be relocating the playground closer to the MUGA
We are delighted that the old pavilion is being renovated and is now home to 'Radwinter Men's Shed'
If anyone would like to get involved in this project please contact us.